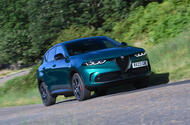 Do the plug-in hybrid's fleet-friendly figures come with a sprinkling of Alfa stardust?
Why we're running it: To see how well Alfa's new PHEV small SUV balances rationality and emotion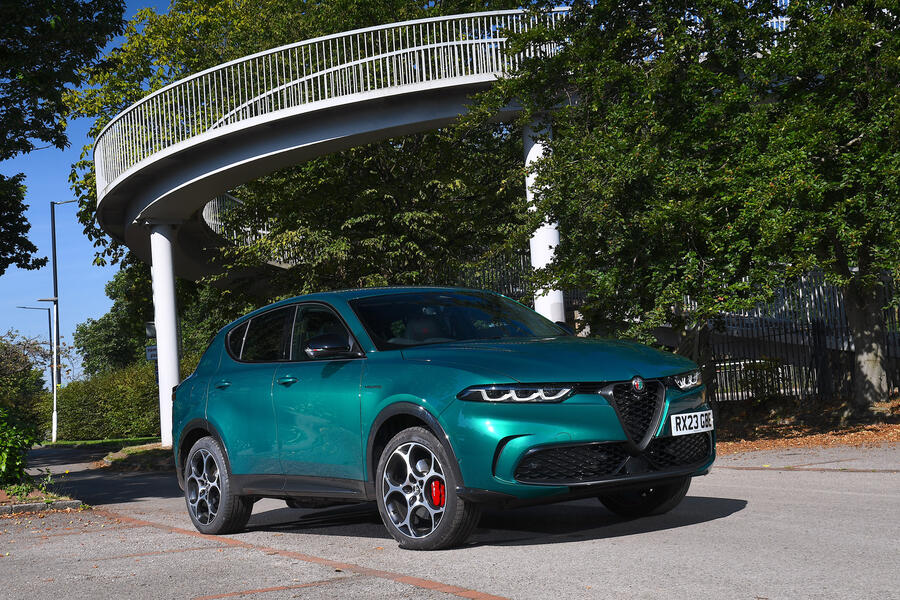 Life with a Tonale PHEV: Month 1
Welcoming the Tonale to the fleet – 20 September 2023
Here's a potted recent history of Alfa Romeo: it was loss-making until parent company Fiat Chrysler was subsumed into a new conglomerate, Stellantis, which quickly made it profitable, under the watchful eye of Jean-Philippe Imparato, already esteemed for his positive impact on Peugeot.
New cars have been sparse, and while the Giulia saloon is well-liked by us and others and the Stelvio is a talented SUV (albeit an ageing one with no electrified powertrains), the introduction of a small SUV was well overdue. 
Enter the Tonale. Luxury brand or not, if you don't have a compact SUV on your books these days, you're dead in the water. The Tonale was revealed in 2019, but after Imparato joined in early 2021, it was delayed before arriving last year.
Why? Well, as a perfectionist and a true Alfista, the Frenchman wasn't happy with the electric-only range of the plug-in hybrid, nor the "Alfa Romeo touch and feel" of the mild hybrid. Those are the two variants now available, with our new long-termer being the plug-in hybrid.
One of the reasons that Imparato wanted that EV range to be decent was to ensure it appealed to fleet customers. After all, it's the most fleet-relevant car that Alfa has made in donkey's years. Just over half of Tonale sales are to fleets,
and the SUV unsurprisingly already accounts for two-thirds of the brand's UK sales, so it's a considerable volume that is going to businesses.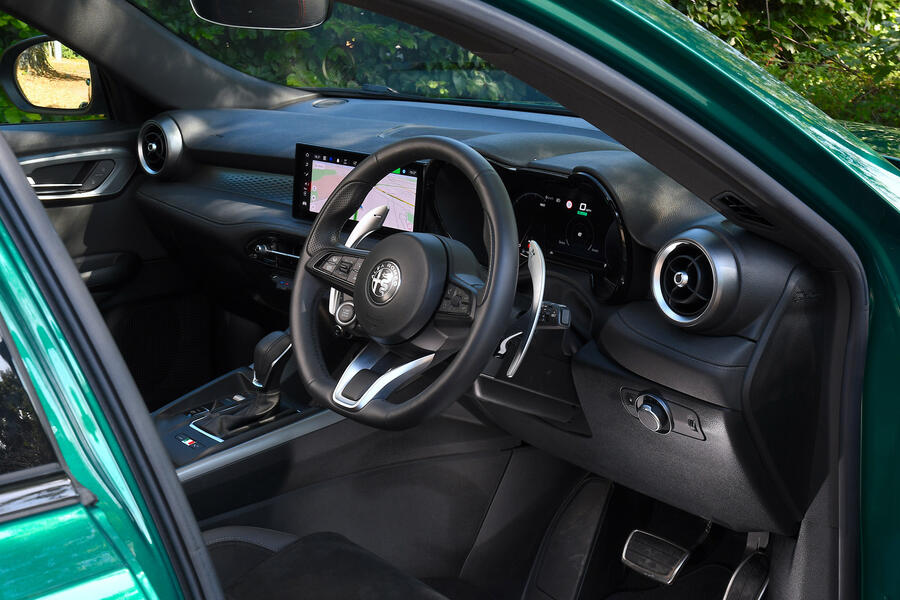 For now, the 1.5-litre MHEV is still the more popular powertrain, making up 58% of sales, but Alfa expects the balance to flip as full availability of the 1.3-litre PHEV comes into play in the UK.
That will also improve Alfa's overall sales standing here, which is down 7.6% year to date. The maker says that's a result of it moving away from internal combustion cars and the delay in the PHEV arrival.
Anyhow, the summary is that the Tonale might not be the Alfa of your dreams, but it is the Alfa that the company desperately needs.
So to ours. First, that colour! Already found on the Giulia, it made me smile when I first potted it on my street. Regular readers might recall that I'm not one for bright colours (although I wouldn't say no to a yellow McLaren if offered, obviously), but this Montreal Green – a £1500 option – is on the loud side without being garish. Maybe it just feels, well, very Italian, and very Alfa.
The other two options on our car are the Mode 3 charging cable, which helpfully connects your car to a charging station, and the autonomous driving L2 pack, which is a fancy name for some assisted driving functions as intelligent adaptive cruise control, advanced lane keeping assistance and a front-facing camera. 
Included as standard on Veloce trim (the middle and most popular) are a 10.25in touchscreen system with a DAB radio, sat-nav, Apple CarPlay and Android Auto, plus a wireless smartphone charging pad and hands-free boot opening.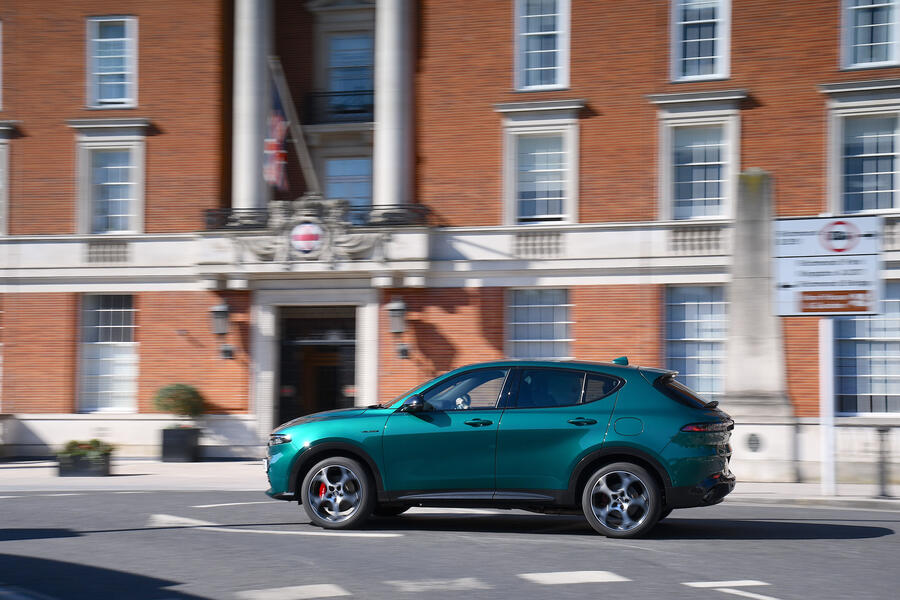 The powertrain is an uprated version of the one found in the Jeep Compass 4xe (although Alfa doesn't like that reference). It has the same 177bhp four-cylinder turbo petrol engine driving the front wheels through a six-speed automatic gearbox, but the electric motors are more powerful than the Jeep's, at 121bhp. That all delivers four-wheel drive and a 0-62mph time of 6.2sec. 
It has a bigger battery too, with a capacity of 15.5kWh, which promises up to 48 miles of electric range. Time will tell, but I'm hopeful that I can comfortably get more than 30 miles of range in the real world. 
As you can see from our road test editor's comments (below), the PHEV powertrain hasn't been as well received as Alfa might have hoped, mostly because of its legacy as a sporting brand. But living with a car is very different to an intensive road test, so let's see how I come to feel about it over the next few months. 
I continue to be amazed by how expensive cars are these days, but to be fair to Alfa, the Tonale is on par price-wise with key rivals including the BMW X2 and the Jaguar E-Pace. 
It's an exciting time for Alfa: money-making once again and able to justify making truly exciting cars such as the recently-revealed 33 Stradale supercar. Now is my chance to see if the Tonale offers any clues about where the brand is heading. 
Second Opinion
When I compared a Tonale with an equivalent Audi Q3 earlier this year, Alfa's inexperience with PHEVs was made clear by a comparative uncouthness about its powertrain. However, there was also much to like about the newcomer, not least its surprisingly agile handling.  
SECOND OPINION AUTHOR HERE
Alfa Romeo Tonale 1.3 PHEV 280 Veloce specification
Specs: Price New £48,495 Price as tested £51,595 Options Autonomous driving L2 pack £1250, PHEV Mode 3 charging cable £350, Montreal Green paint £1500 
Test Data: Engine 4 cyls in line, 1332cc, turbo, petrol, plus 15.5kWh battery and rear-mounted electric motor Power 276bhp Torque 347lb ft Kerb weight 1835kg Top speed 128bhp 0-62mph 6.2sec Fuel economy 217.3mpg CO2 29-33g/km Faults None Expenses None